This winter my friends and I had the pleasure to go on a snowshoe trip with Famke in the beautiful Aosta Valley in Italy. Famke had planned and arranged the trip carefully beforehand, taking into account every possible situation that could be encountered, in order for us to feel completely safe and secure, which we did. Famke designed our tour to be a perfect mixture of physical effort and some well-deserved pampering.

Famke is a very competent and pleasant mountain leader. She knows where to go and also where not to go. She does not take any risks, but has a talent to find the most beautiful places off the beaten track. During the trail, Famke made sure everybody was feeling ok and she adjusted the pace if necessary. The company of her loyal companion, Woodstock the mountain dog, made our trip complete.

If you wish to enjoy a hiking holiday in the mountains with friends or family, in winter or summer, I strongly recommend you ask Famke to be your guide. She will definitely add value and fun to your holiday. "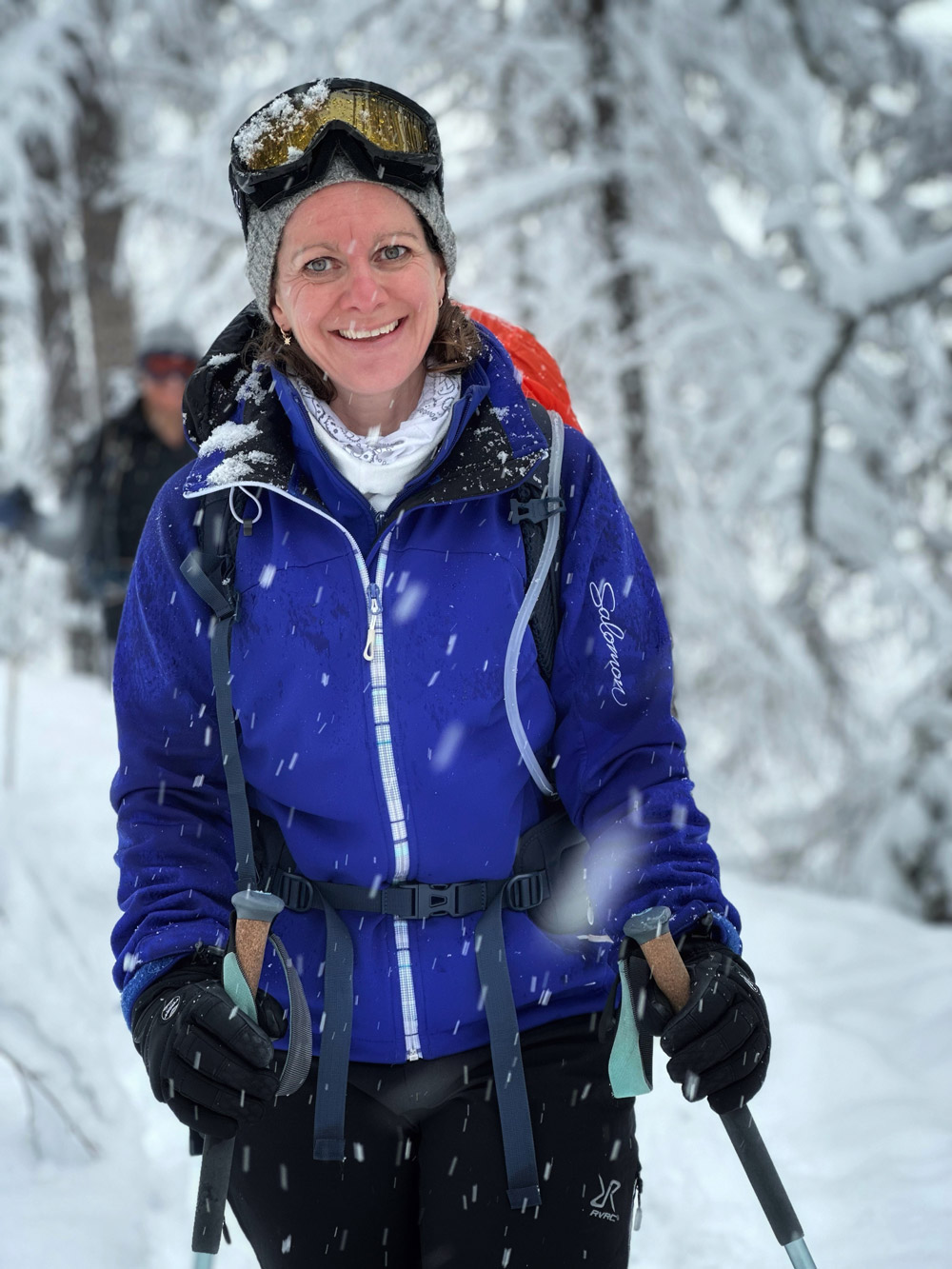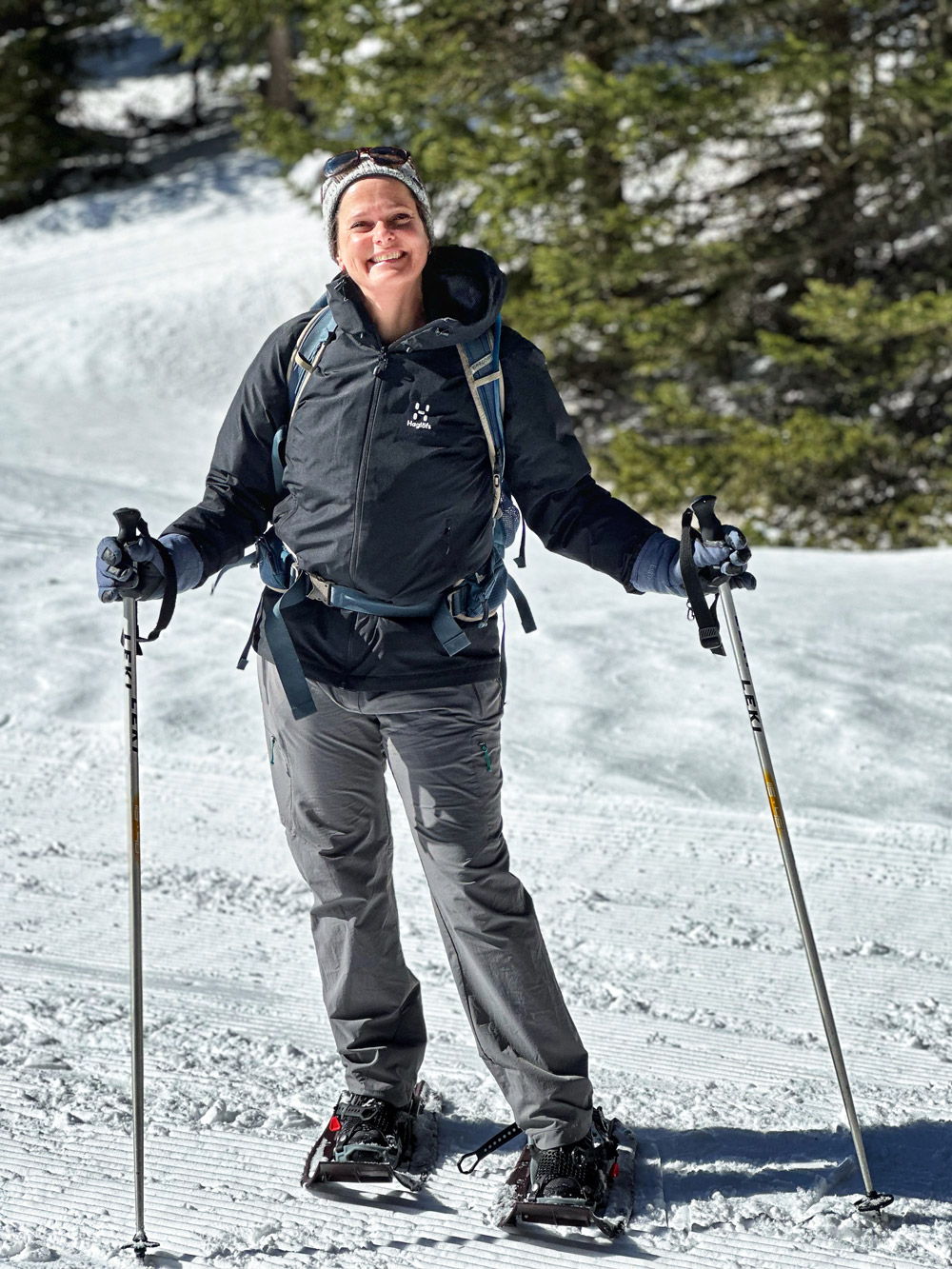 Last spring, I went on a snowshoe hiking adventure with a group of friends, all under the expert guidance of Famke. Even though we were only away for three days, she had organized a diverse and captivating itinerary. Despite the high avalanche danger during our hike, Famke took great care to make sure we felt safe and at ease throughout the journey. The experience was truly remarkable, filled with warmth and companionship. To top it off, Famke's dog joined us, adding an extra special touch. It truly was a beautiful and unforgettable trip that will stay with us for a long time.
If you want to unwind and de-stress, try Mountful Hikes! I had an absolutely delightful time hiking in the Swiss Alps with Famke van der Elst and her dog Woody. I returned physically tired but completely satisfied, and mentally rejuvenated!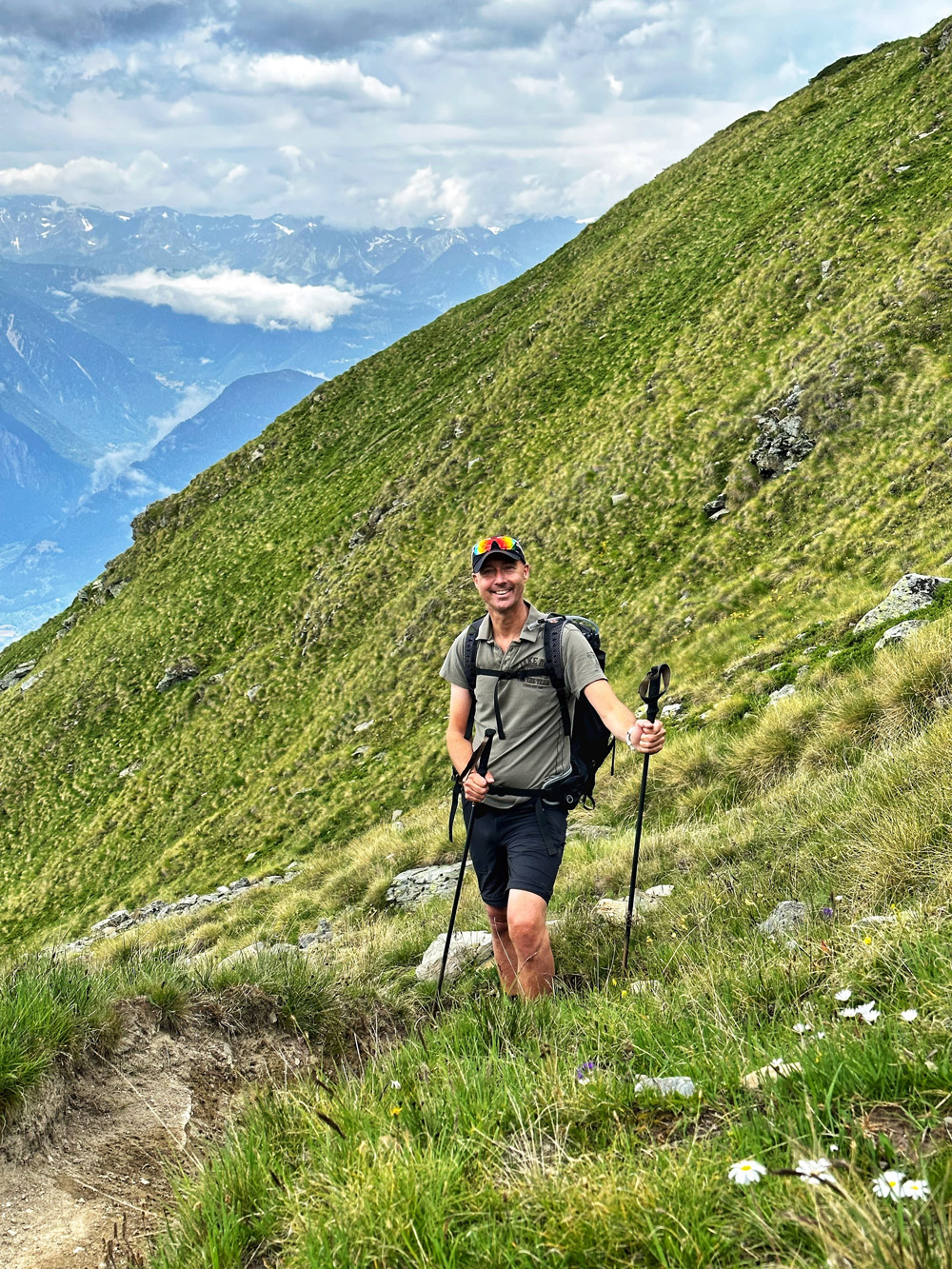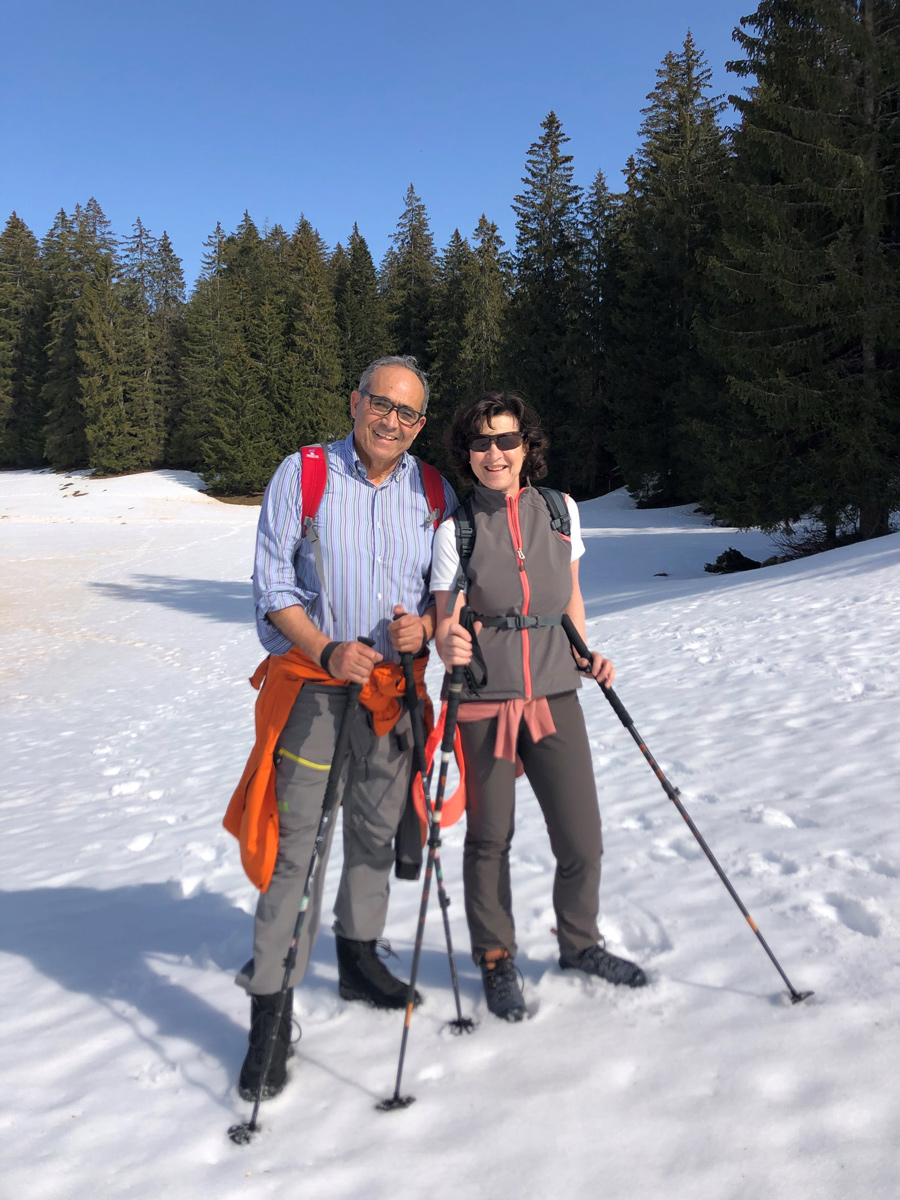 To celebrate my wife's 60th birthday, we've asked Famke to organize a trekking with an outdoor dinner in the Jura mountains. Famke carefully thought out the trekking taking into account our mixed fitness and interests- including a small dog. She hired a chef who prepared a special menu, cooked on site in a lovely surrounding

The 2nd experience we had with Famke was a hike in the Verbier area with another couple with their two children. The walk was longer and more demanding and Famke made sure we were all going at a pace we were comfortable with. At no point, did we ever feel pressured to go faster, which made the whole experience much more enjoyable. Famke organised a picnic with delicious local food and wines, with a magnificent view.

Famke has a fantastic local knowledge of Swiss mountains and made sure we were all informed of facts and points of interest along the way.

If you are looking for a nice hike in the mountains, I would definitely recommend Famke.
In fact, I already did to several friends and colleagues.
Famke is truly an amazing guide!!

If you are thinking to book a custom made outdoor trip in the beautiful alpine landscape with your friends or family I 100% recommend going through her!!

We went on a family 2-night camping trip last summer to see the majestic Bella Tolla. It was the first camping adventure for the rest of my family so I was a little nervous and curious to see if they would like it and it was absolutely perfect thanks to Famke!

All the (secret) spots we walked through were breathtaking and her knowledge of the alpine flora and fauna added a lot to the experience. She is just a really kind and funny human that immediately makes you feel like the mountains could become your second home. I think we all learned a lot from her stories.

The walking pace was also ideal for my parents and she made it very diversified so that we stayed once camping outdoors near a nice mountain lac and once in a very cosy mountain hotel.

I think my family and I all agree this was a truly memorable weekend outing and that it is going to be hard to too that this summer!
Last week we had a lovely trek with Famke and her beautiful dog Woodstock! Famke is so knowledgeable, friendly and fantastic company to explore the Swiss mountains with. Would strongly recommend her tours!
A super mountain guide who can guide you around the mountains safely. Olle, her dog was very welcoming to my dog too when we both joined for a Thursday morning hike. I highly recommend to anyone who is looking for a nice way to spend time in nature
Famke and her dog Olle are great companions to explore the Swiss mountains. On top of being very professional and knowledgeable, she is a very nice person! Highly recommended!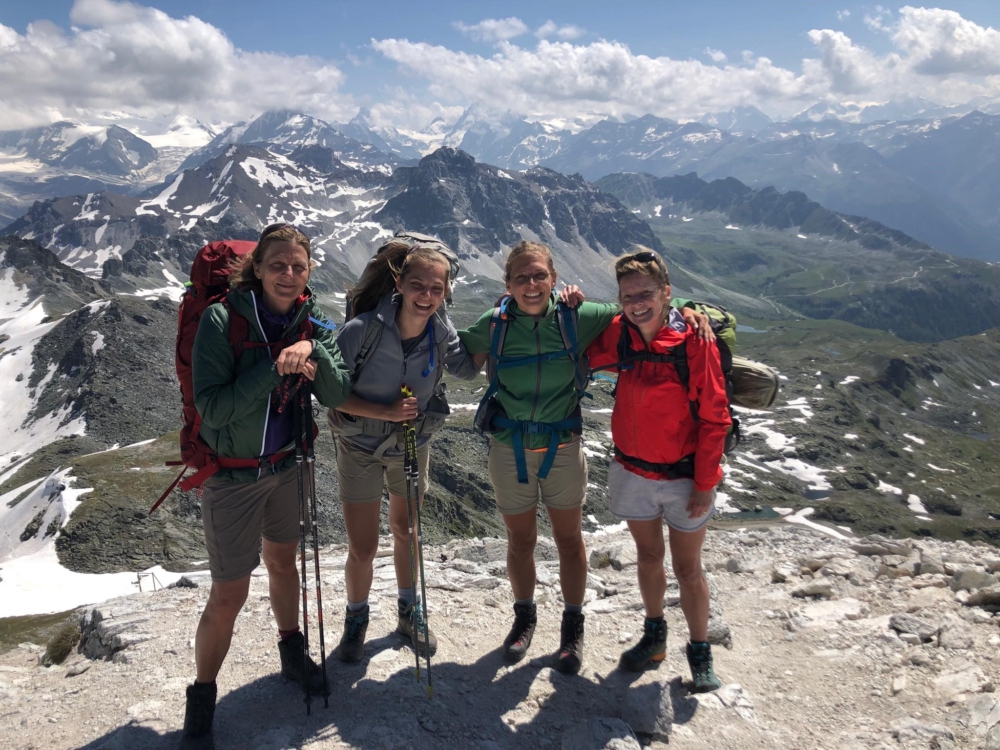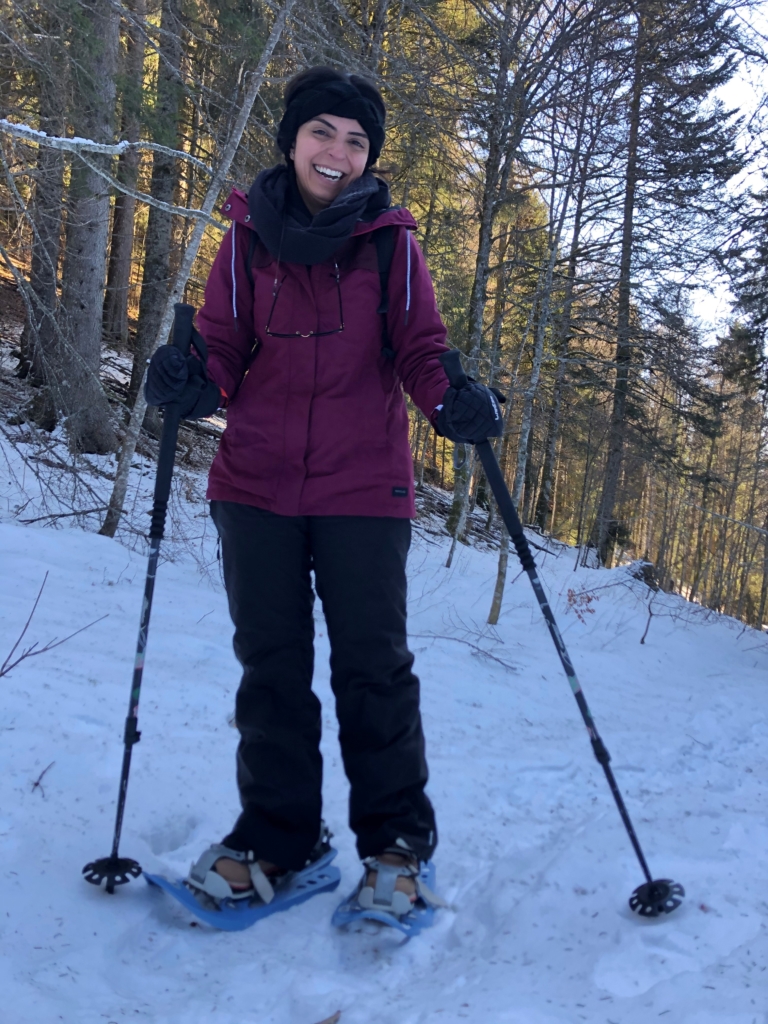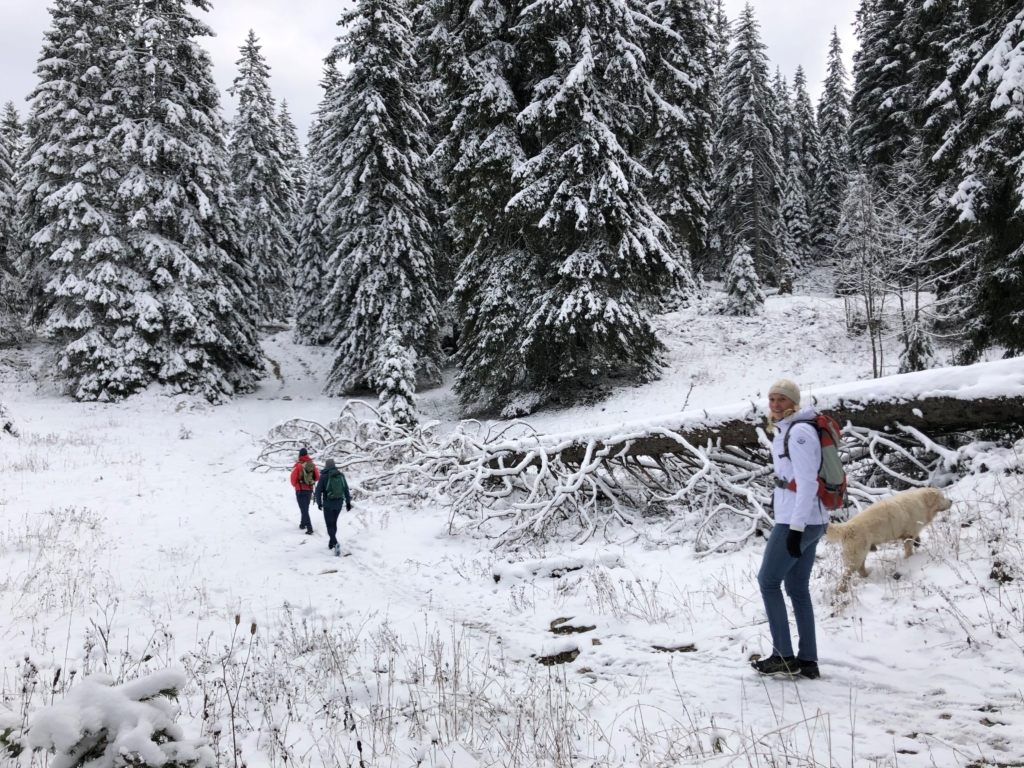 Famke is a very well prepared guide, who adjust the trip / tour to the level and condition of her guests. She is a pleasant company with a no-nonsense attitude and her very sweet and tough dog, Olle is really an addition to the company .

Besides a nice hike through a fantastic environment, you can have good conversations, or just enjoy the silence and maybe (as in our case) encounter a gems or deer!
Last Thursday I went on a wonderful snowshoeing hike with Famke & Olle in the beautiful mountain of the Jura! It was my first time on snowshoes and I loved it, walking with such ease over the snow covered paths. It was also my first time in the Jura and Famke told us a lot of interesting details about the geology, the flora and fauna To top it off, we were served hot tea and homemade muffins when we actually reached the top – with amazing views on Lac Leman and the Mont Blanc Please join Famke and her super sweet dog Olle on one of her weekly hikes – every Thursday morning – or book a custom made hike with this lovely, enthusiastic and energetic (certified) mountain guide
Hiking is about you, nature and hopefully someone else who loves being out as much as you do. Famke loves what she does… and you can tell. I would recommend hiking with her to anyone who's interested in connecting with the overwhelming beauty of nature. Also… hiking is just a great way of meeting nice people.

Thanks a lot Famke!

See you soon!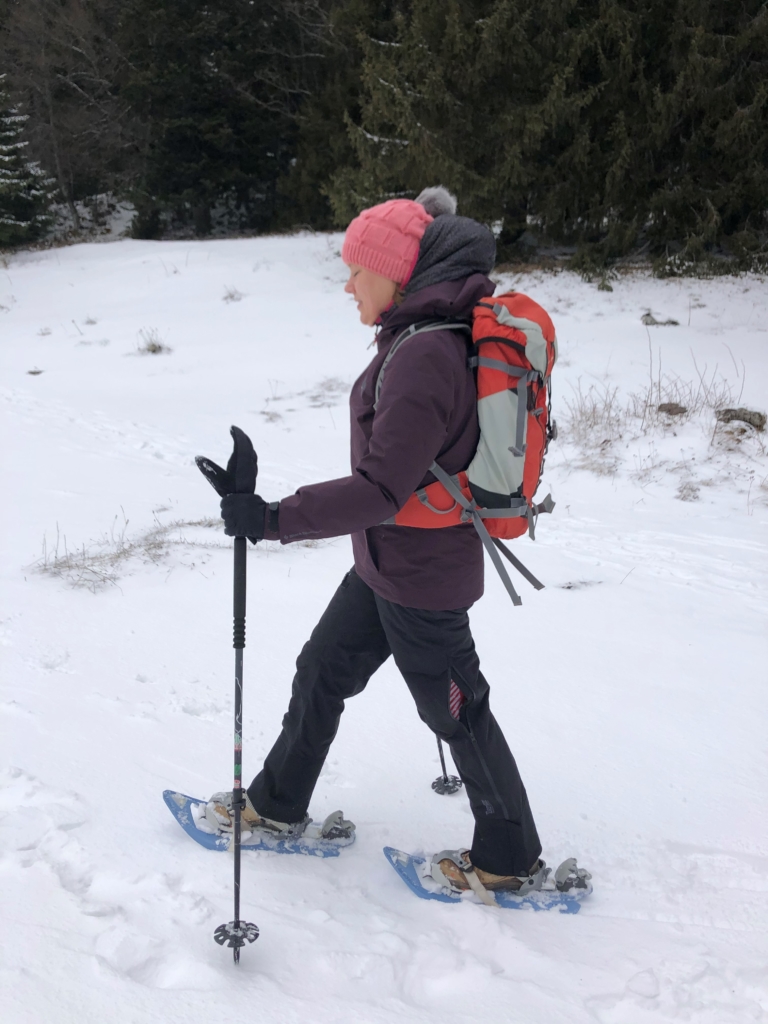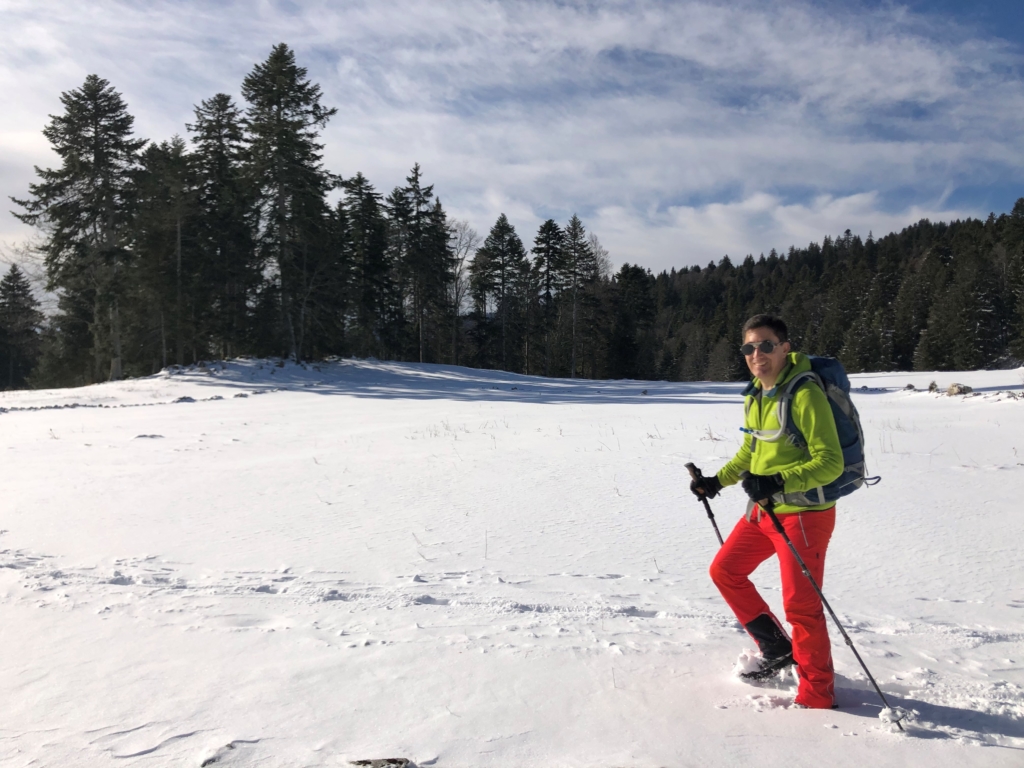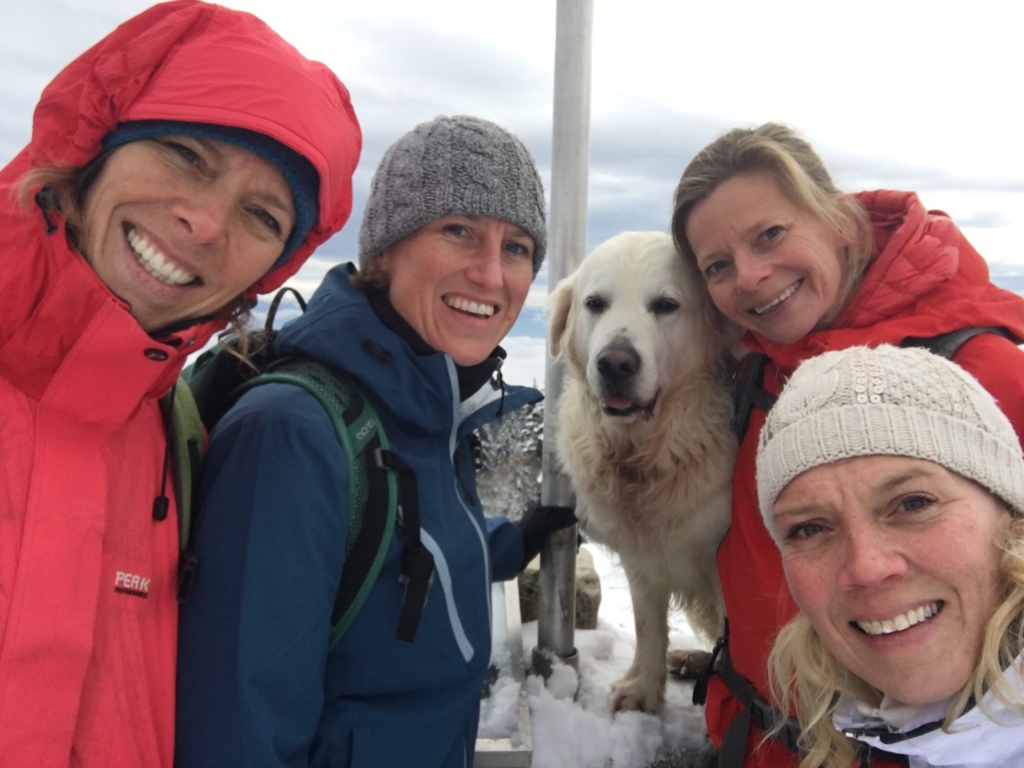 Thanks to Famke, we had a fantastic hike in the snow. We even saw our favourite mountain goat, the Chamois!
Famke knows all the beautiful spots and she is such a nice guide, great company to spent your day with.

thanks for the lovely hike.
About the Tour des Muverans : An epic experience and very nice to share this with Famke and the other participants. We've created unforgettable memories.
Famke brings you to place you would never have found yourself. She is a guide who plots out a track which suits to your level and interests. I will recommend all my guests to book a trip with her to get the most of their stay in the Alps.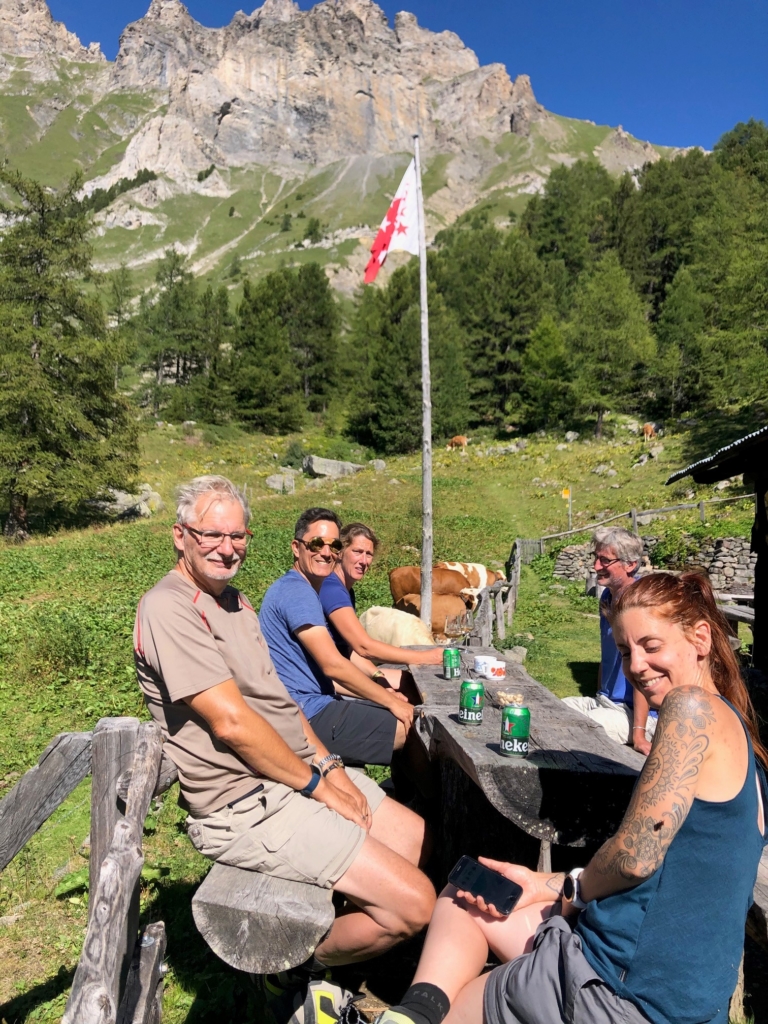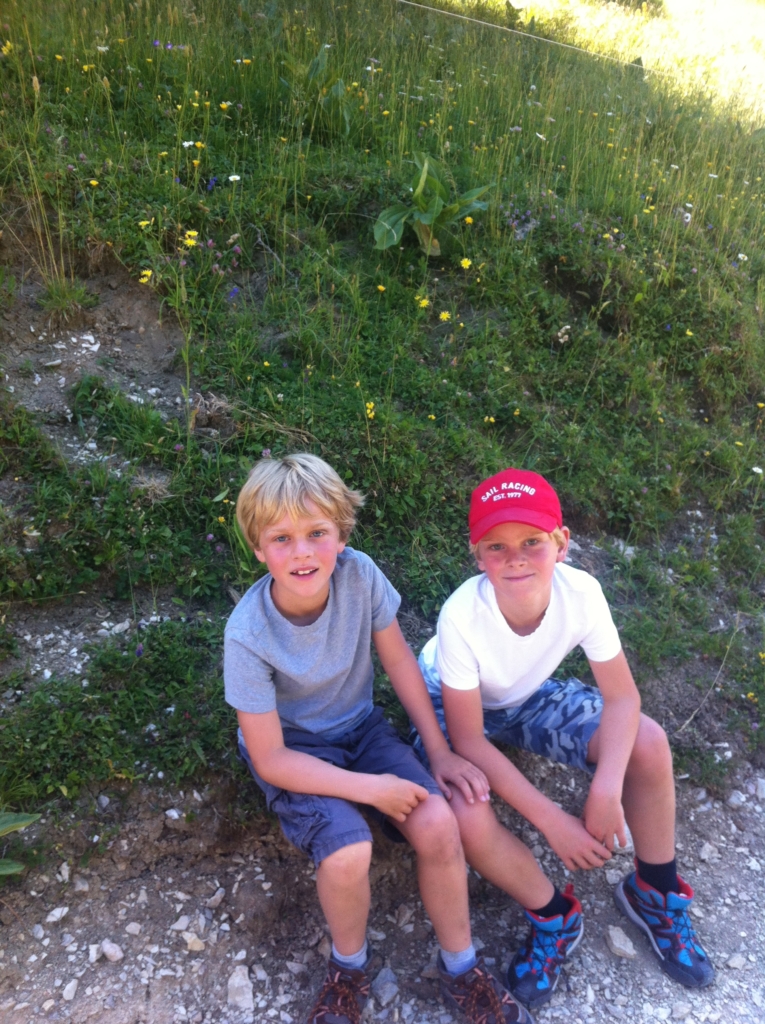 This summer, we took our 2 sons for their first real mountain hike. Our sons (8 and 10) turned out to be naturals and kept running out ahead of us. That was followed by a bit of climbing; fortunately, there were chains that we could hold on to to pull ourselves up.

At the top of the mountain, with its impressive view of the Mont Blanc on one side and Lake Geneva and the Jura Mountains on the other, we enjoyed our picnic! (It's amazing how delicious a simple cheese sandwich and a bottle of water can be…)

Plans for the summer

Without Famke we would never have dared do this, but we're so glad we did! Our kids are still talking about it, and we will definitely be going back for another beautiful mountain hike with Famke and her dog Olle.

We might even choose a hut-to-hut tour this year!
Last autumn, we went out on a 3-day hike in the French Alps with Famke (and Olle). On the first day, we looked for chanterelles that we used to make a delicious pasta later that evening.

Alpine Ibex

The second day, we went to a different part of the valley, where we saw whole herds of ibex from up close. Very cool! And on the last day, we went for a mountain hike with a gorgeous view of Lake Geneva. Famke takes you places that you would never find on your own. We highly recommend going mountain hiking with Famke!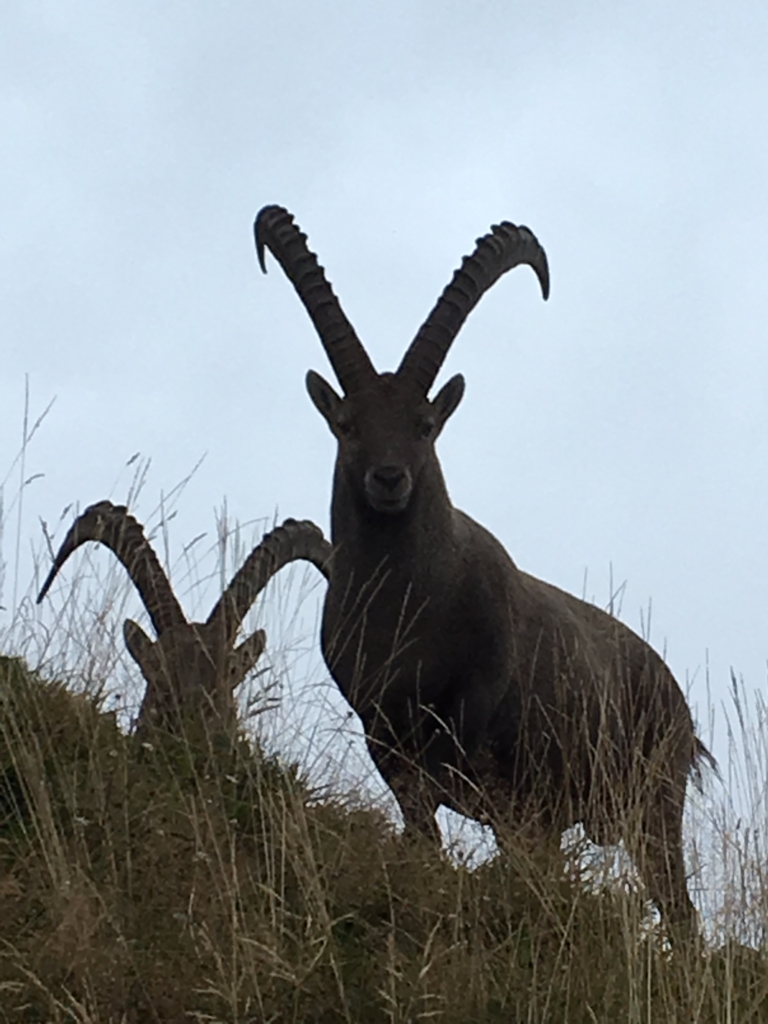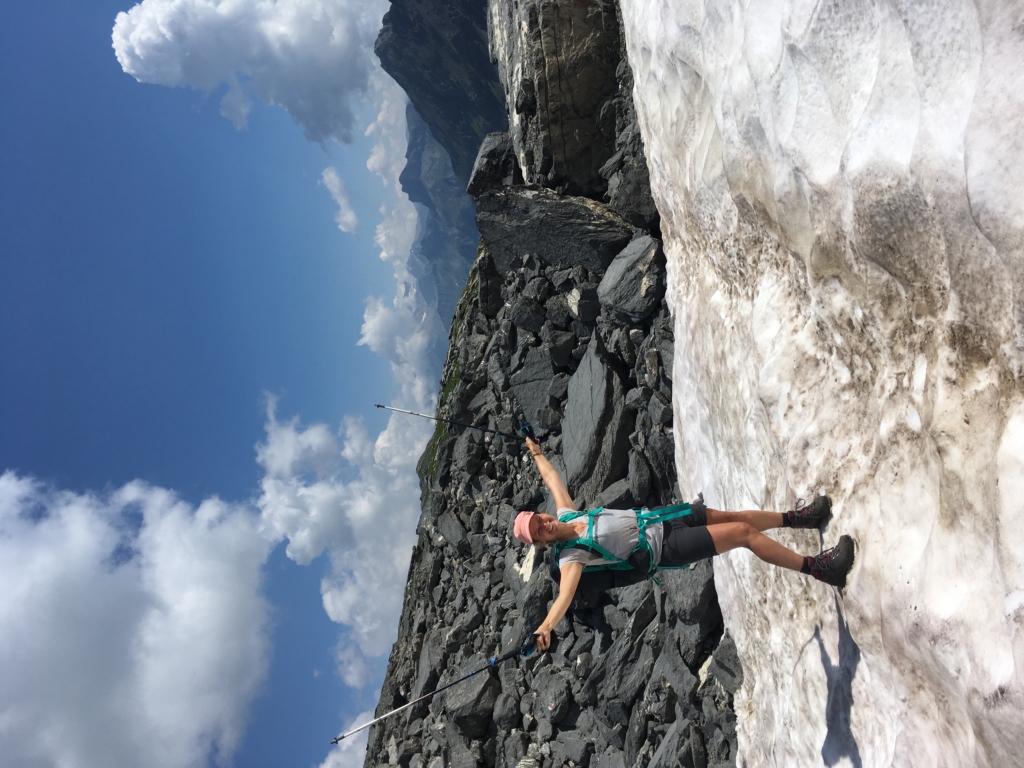 Last summer, Famke and Olle took me on a trek of discovery. My first steps in the mountains followed the Tour des Muverans. It was a magnificent trek with a different landscape every day, and Famke guided me along the most beautiful paths and to the best huts. With a combination of knowledge, wisdom, and humour, she taught me the basics of being in the mountains.

It was wonderful! Thank you, Fam, I'm already planning my next trip!
We love mountain hiking, but teenagers have to break through a barrier before they learn to appreciate it. This summer, Famke took us and our three children (our 14-year-old twin daughters and 16-year-old son) on a number of beautiful mountain hikes. The great thing about having a guide is that you can really get much more out of your holiday than when you go up into the mountains alone. A guide can tell you everything about the mountains, the flowers, the animals, and all kinds of other interesting things!

Raclette by moonlight

But the best thing was the night that Famke took us to a young farmer at the top of the mountain. He makes his own cheese and, every evening, he and his mother serve the most authentic raclette you can imagine! And what an adventure to walk back down the mountain at night under the starry skies. The kids loved it and so did we!