Yoga & Hiking in the Italian Alps
Hiking & Yoga is the perfect combination of activity and relaxation, allowing you to recharge, reconnect with yourself and nature in a majestic and inspiring environment.
If you love hiking in the magical mountains, exercising yoga with a view while breathing fresh mountain air and can also appreciate the Italian kitchen, then this 3 -day tour is definitely for you!
It's an easy tour suitable for anyone with a reasonable level of fitness since none of the paths are particularly technically demanding. Another advantage of the easy-going pathways is that instead of constantly watching where to put your feet, you can take in the breath-taking views! We'll stay 2 nights in a luxury mountain hut, so no need to carry a heavy backpack the whole way long! Just make sure to take your swimming suit, as there is a nice mountain lake not far from the cabin.
We'll meet in Vetan, a very small village in the Aosta Valley, from where we will hike to our basecamp, a hike of  4 hours. After we've installed ourselves in the hut, we'll do a session of Hatha Yoga.  Before we go to bed, Chantal will give a Hatha Flow & Yoga Nidra session.
The second day we'll head off with a Vinyasa Flow session. After breakfast we climb up to the Col de Fenêtre, just under the the imposing Mont Fallère (3061 metres high), with with a panorama that takes in Mont Blanc and the Matterhorn. After a good lunch, we could either walk to the Lac Fallère and do our yoga session, Pranayama & Meditation this time,  at the bank of the lake, or we could take it easy and stay around the hut.
In the evening another session of Hatha Flow & Yoga Nidra before we'll fall in a deep sleep.
On the last day, we'll start with Hatha Flow before breakfast. After having packed our rucksacks, we'll take a nice path up&down back to our starting point.
For more info about the yoga and yoga teacher, please read below.
.
For who?
For those who like the good things in life: hiking, yoga, good food & nice people. This route is suitable for anyone with a reasonable level of fitness.
Some highlights
Beautiful hikes
Intensive (though accessible) yoga lessons
Breathtaking views
Delicious food
Nice company
Digital Detox
Lots of laughter !
Number of participants

Minimum group size: 6

Maximum group size: 10
When
Price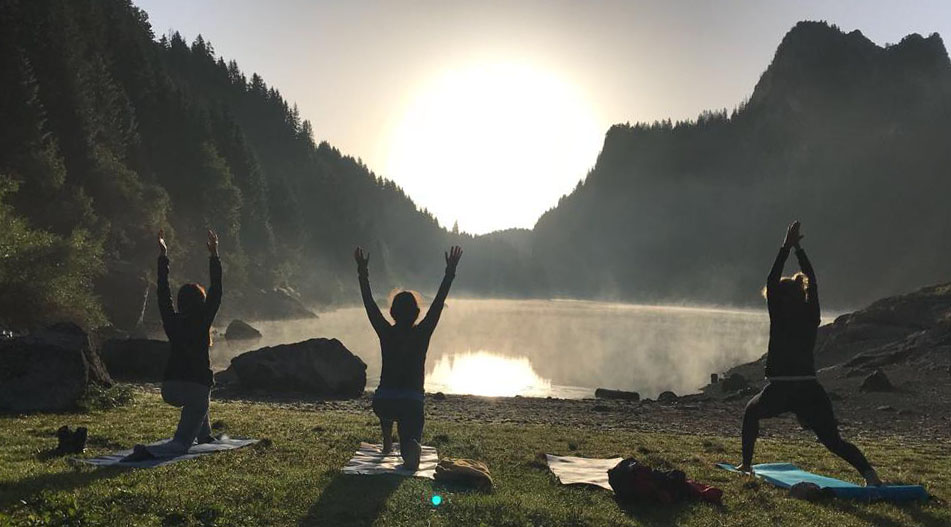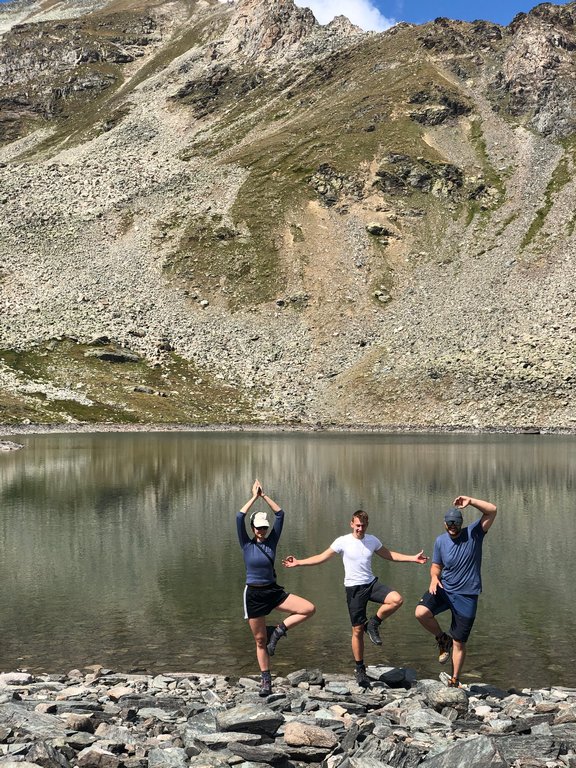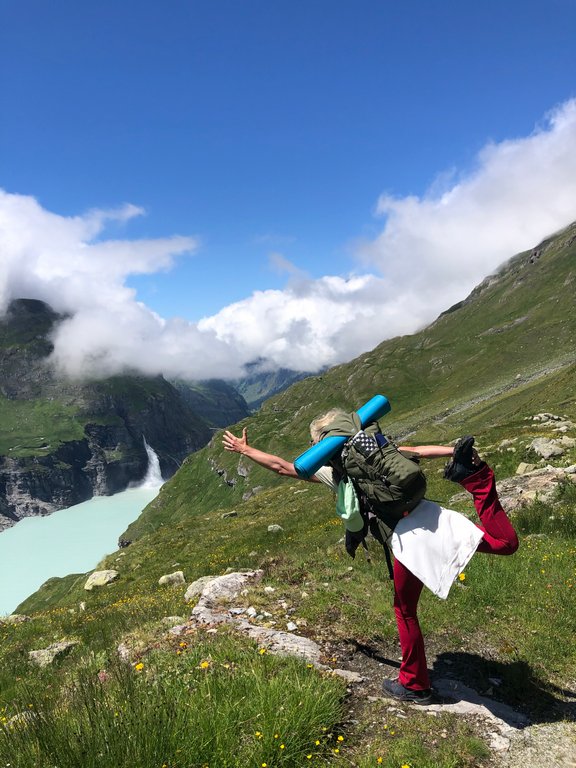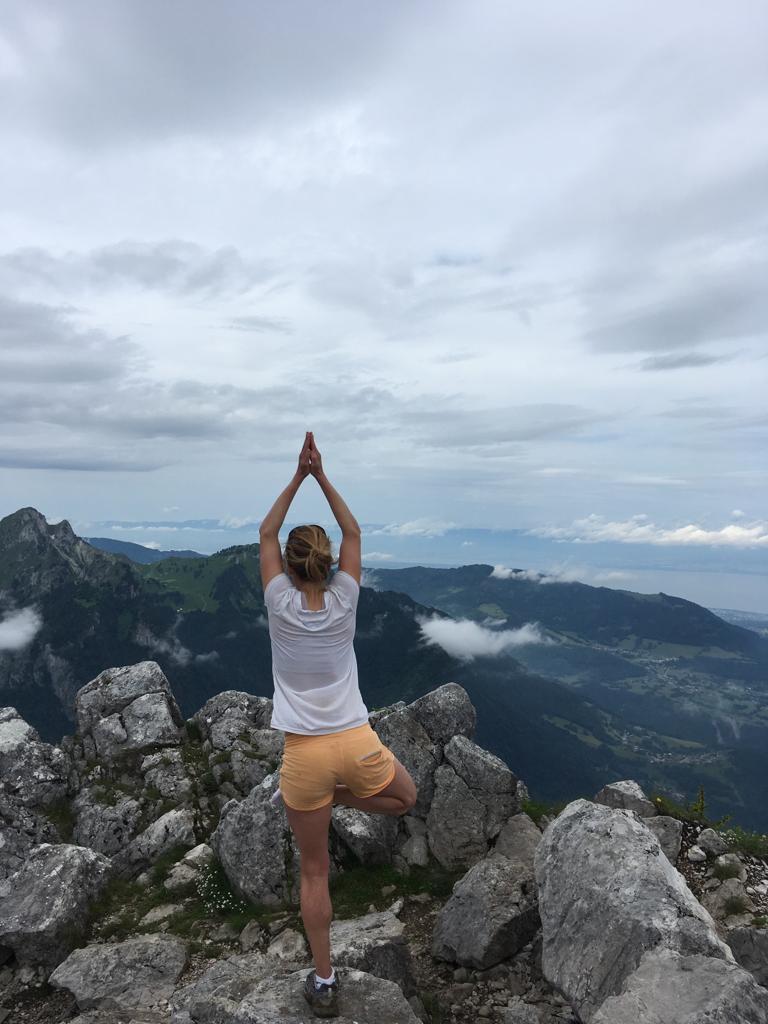 Chantal de Wit
"Almost 15 years ago, yoga came my way because I was looking for peace and relaxation. Because of the inspiration I received during yoga classes, I continued to practice yoga. After several years of taking yoga classes, it was a logical step for me to choose the yoga teacher training. I would describe my yoga sessions as personal and down-to-earth."
Hatha Flow
The physical effort of Hatha Flow helps you to get out of your head and into your body. It creates space in your mind making it easier to relax. Chantals Hatha Flow classes are down to earth, accessible and safe. The flow consists of different yoga postures that are both strenuous and relaxing.
Hatha Flow & Yoga Nidra
Hatha & Yoga Nidra is a session combining Hatha Yoga and Yoga Nidra. Hatha Yoga is the classic form of yoga that involves balance between exertion, relaxation and awareness of breathing. Yoga Nidra is an ancient form of yoga and  involves entering a sleep-like state, but in fact, you are almost more alert than when you are awake. Half an hour of Yoga Nidra is equivalent to about 2 hours of deep sleep.
Vinyasa Flow
Vinyasa Flow is a dynamic form of yoga, connecting different postures through flowing movements to the rhythm of your breathing. This relaxes you and releases tension and energy.
Pranayama & Meditation
Your main source of energy is your Breath (pranayama). The more energy you have, the deeper you can relax. With each in-breath you give yourself new fresh energy. With each out-breath you release into deep relaxation. Breath and relaxation directly affect each other.
From the pranayama, space and silence is created which forms a good basis for the meditation and the meditation in turn creates depth that you can take with you on the hike.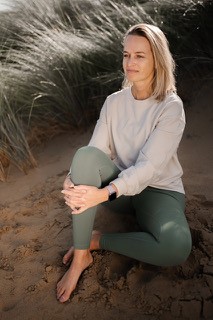 Chantal de Wit
(Yoga Teacher)