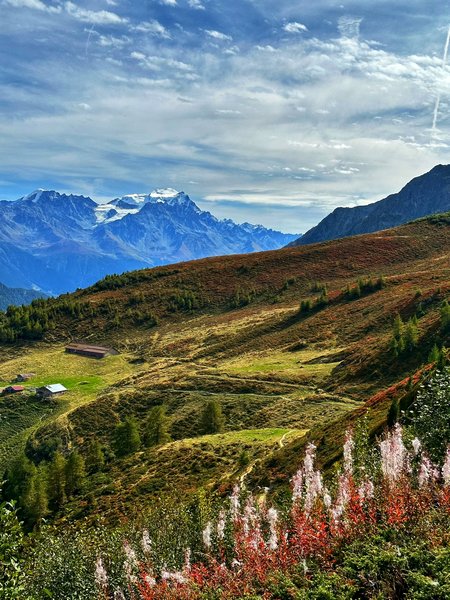 The Walker's Haute Route is a legendary hiking trail that spans the stunning landscapes between Chamonix, France, and Zermatt, Switzerland. This iconic route offers a unique blend of challenging terrain, awe-inspiring alpine vistas, and quaint mountain villages.
Key Features The Walker's Haute Route:
Unparalleled Scenic Beauty
The Walker's Haute Route showcases the best of the Swiss and French Alps. Hikers are treated to panoramic views of towering peaks, glacier-carved valleys, and picturesque meadows. From the majestic Mont Blanc to the iconic Matterhorn, this route is a visual feast for nature enthusiasts.
Diverse Terrain and Challenges
This route offers a variety of terrains, from gentle valleys to high mountain passes. It caters to a range of hiking abilities, making it accessible to both experienced trekkers and those looking for a challenging adventure.
Quaint Alpine Villages
Along the way, you'll encounter charming alpine villages, each with its own unique character. Experience the warm hospitality of locals, savor traditional mountain cuisine, and immerse yourself in the rich culture of the region.
Iconic Landmarks
The Walker's Haute Route takes you past some of the most famous peaks in the Alps, including the Grand Combin and the Dent Blanche. These towering mountains provide a breathtaking backdrop to your trek.
Flexibility in Route Planning
Hikers have the option to customize their itinerary based on their preferences and time constraints. Whether you choose to complete the entire route or focus on specific sections, the Walker's Haute Route offers an adventure tailored to you.
.
Plan Your Walker's Haute Route Adventure
Before embarking on this unforgettable journey, it's crucial to prepare adequately. Ensure you have the right gear, a well-thought-out itinerary, and a good understanding of the trail's demands. Additionally, consider guided tours or expert advice for a safe and enriching experience.
Experience the magic of the Walker's Haute Route and create memories that will last a lifetime. This extraordinary trek promises an adventure that combines the best of nature, culture, and physical challenge. Discover the allure of the Alps and embark on a journey that will leave you awe-inspired.
Contact us today to start planning your Walker's Haute Route adventure. Get ready to conquer peaks, traverse valleys, and immerse yourself in the breathtaking beauty of the Swiss and French Alps.
.
Mountful Hikes
I am a Mountain Leader trained in the Swiss Alps and happy to show you my favourite hikes in the Alps. We could go out for a half or full day in the stunning Val de Bagnes, but if you really want to get away from civilisation for a while, you can also book me for a multiple day tour! Wildcamping for the most adventurous amongst you, a tour from hut tot hut for the ones who appreciate a bit of comfort and from boutique hotel to boutique hotel for them who like hiking, fine dining and wellness! See our Summer Program
Of course there are a lot of other possibilities. Contact me if you would like to have your own tailor-made private group hike!