Yoga in the Mountains
The Hiking & Yoga retreats I've organised so far were a huge success!
I guess that's due to this perfect combination of activity and relaxation, allowing you to recharge, reconnect with yourself and nature in a majestic and inspiring environment.
If you love hiking in the magical mountains, exercising yoga with a view while breathing fresh mountain air,
I've 2 solutions:
Ask your yoga teacher if she/he is in for some mountain yoga as well and invite your yoga buddies to join us on this replenishing journey.
When you don't take yoga classes but you have friends who are into this kind of holiday, let me know and I'll ask a good and nice yoga teacher and together we'll create an unforgettable retreat.
Whether you'd like a hut-to-hut tour or staying in a luxury mountain hotel with spa, enjoying local mountain food or organic food, everything is possible!
I'd love to design a tailor made experience for you and your group.
Contact me famke@mountfulhikes.com  to discuss all the opportunities!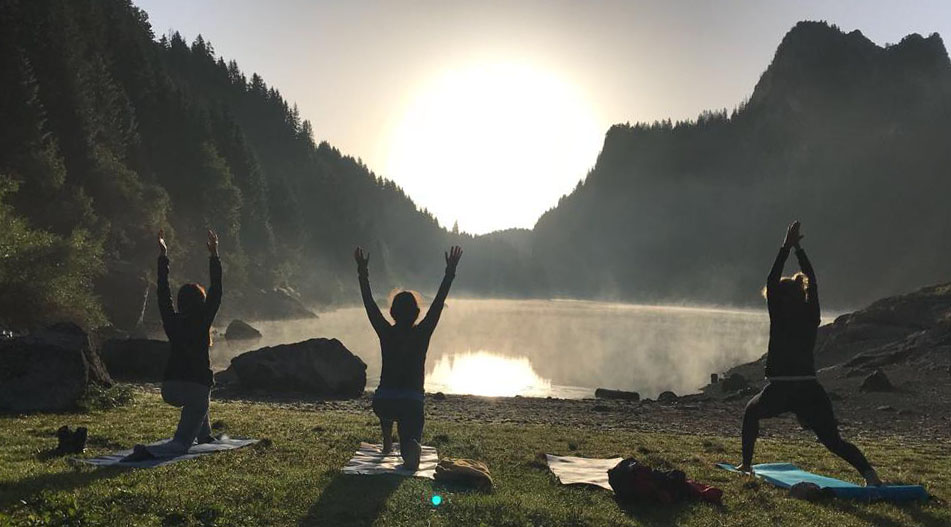 MOUNTFULNESS
YOGA
Hatha yoga, Yin Yoga, Restorative Yoga and Mindfulness.
HIKING
You don't need to be an experienced hiker, but you have to be fit as we will walk at least 4 hours per day.
Some highlights
Beautiful hikes
Intensive (though accessible) yoga lessons
Breathtaking views
Delicious food (local or organic)
Nice company
Digital Detox
Lots of laughter !