Hiking with dogs
Discovering the mountains with your dog
I used to go in for the more extreme things, but I found out that I prefer choosing routes that allow me to take Olle along. What could be more fun than going out for an adventure with your dog?
 Golden Retriever or mountain goat?
Was he a Golden Retriever in a passed life or, more probably, a mountain goat? It's fascinating to see that he knows intuitively where to put his paws and (almost) never takes a misstep. When I come to a difficult pass and wonder how Olle is going to cross it, he is often already at the top, waiting for me and watching with great interest how I clear the obstacle. Once I've managed it, he continues his way, sure in the knowledge that I am following him once again. In short, it's a lot of fun to take your dog into the mountains! I think there is little your dog would enjoy more!
But… there are a few things to keep in mind: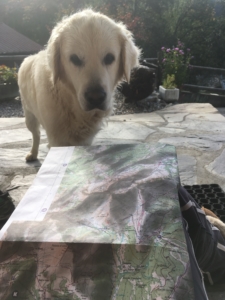 In some areas, dogs must be kept on a lead or are not permitted at all because of protected flora and fauna.

Check your itinary beforehand to see if it's appropriate for your dog: dogs can't go up and down ladders and narrow paths along ravines are not ideal either.

It is essential that your dog obeys your commands instantly.

Dogs must be trained for longer hikes.

Make sure you have enough water for both of you.
(See photo below…)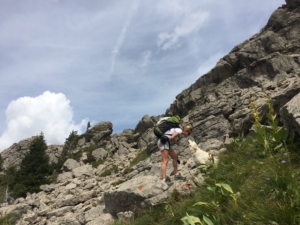 .
Come and join us on one of our "dogproof" hikes in the Swiss Alps!