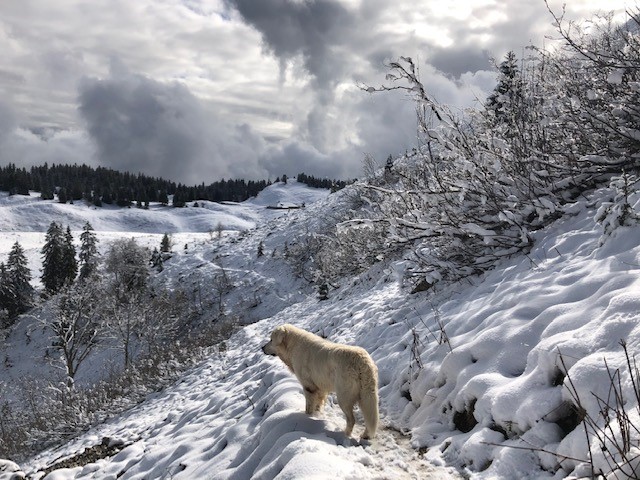 Elk jaar nog ben ik zo blij als een kind met de eerste sneeuw! Dat je je raam opendoet en er zich een complete metamorfose heeft voorgedaan! Om vlinders in je buik van te krijgen!
Sinds vorige week is de Jura weer bedekt met een mooie laag poedersneeuw. Olle en ik zijn druk bezig om de mooiste winterwandelingen voor jullie uit te zoeken. De bergen van de Jura lenen zich perfect voor sneeuwschoenwandelingen, ze zijn niet al te steil en de bossen… Zondag zei ik ongeveer elke 10 minuten tegen Richard "Wat zijn die bomen mooi hè?!" Het woord winterwonderland is waarschijnlijk hier bedacht!
Je fantasie kan hier makkelijk met je aan de loop gaan, zeker in de wetenschap dat in de Jura lynxen en wolven rondlopen. Ik ben altijd alert op het spotten van wilde dieren, maar ik denk eerlijk gezegd dat ik mij een hoedje schrik als ik op een dag oog in oog sta met een lynx!
Mocht je een keer een poes zien zo groot als een herdershond met bakkebaarden, gepluimde oren en een kort staartje, dan heb je dus te maken met een lynx! Echt bang hoeven we (zelfs Olle niet) niet te zijn, want het favoriete maaltje van de lynx bestaat uit haas, ree of gems.
De kans dat we dit mythische dier zelf te zien krijgen is niet heel groot, door zijn pluimoortjes hoort hij ons al van mijlenver aankomen, maar dankzij de sneeuw kunnen we wel zien of hij in de buurt is geweest! Dat is ook zo leuk in de winter! Sporen analyseren en volgen!
En dan heb ik het nog niet eens gehad over al die gezellige hutjes waar je kan opwarmen met een warme chocolademelk of de heerlijkste kaasfondue kan eten…
Als ik je enthousiast heb weten te maken, klik dan op Winterwandelingen en lees ook mijn BLOG 'Sneeuwschoenwandelen of skiën'