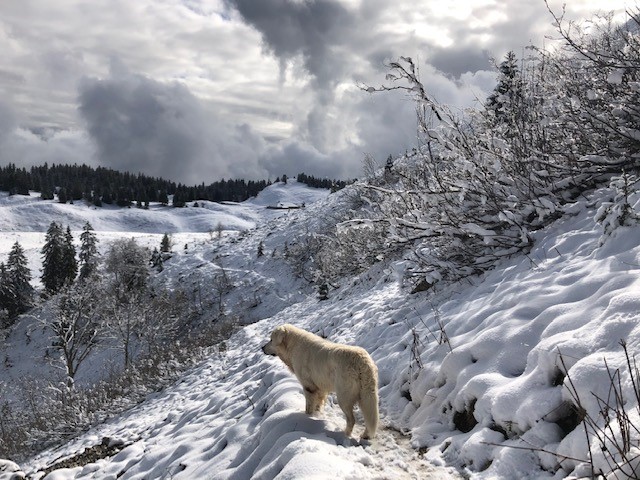 The first snow of the year always brings out in me a wave of childlike happiness! The joy of opening the window and looking out on a world that has undergone a complete metamorphosis! It sets your senses alight!
Since last week, the Jura is once again covered in a beautiful layer of powder show. Olle and I are hard at work preparing the best winter hikes, for you all. The mountains of the Jura are ideally suited for snowshoeing; not overly steep and those woodlands … On Sunday I must have said to Richard every ten minutes "Don't the trees look beautiful?!". The phrase 'winter wonderland" was probably first coined here!
Here, your fantasy can easily run away with you, especially in the knowledge that there are lynxes and wolves running wild in the Jura. I am always on the lookout for the chance to see wild animals, but in my heart of hearts I suspect I would be trembling in my boots if I ever actually came face to face with a Lynx!
If you ever see a cat the size of an Alsatian, with huge sideburns, tufted ears and a short tail, then you have come across a lynx! There is not really any reason for us (or even Olle) to be afraid; the favourite menu items for the average lynx are after all hare, dear or chamois.
There is in fact little likelihood of us actually getting to see this mythical creature. Thanks to his tufted ears he can hear us coming from miles away, but at least the layer of snow means we can see tracks that show he has been in the neighbourhood! That is one other great thing about the winter! The chance to analyse and follow the tracks of wild animals!
And I haven't even mentioned all those cosy mountain huts where you can warm yourself up with a mug of hot chocolate, or eat a delicious cheese fondue …
If I have succeeded in arousing your enthusiasm for a snowshoe winter hike, why not click on snowshoeing and my blog hiking or skiing for more information about our winter snowshoeing hikes.
See you out there?!